On March 29 in Hai Phong, PetroVietnam Exploration Production Corporation (PVEP) organized the Conference of Exploration Strategy and Developing Production for the Period of 2019 – 205.
Attending the Conference were Mr. Tran Thanh Tung, Deputy Head of Petroleum & Coal - Ministry of Industry and Trade; Dr. Phan Ngoc Trung, Member of Board of Director - Vietnam Oil and Gas Group (PVN); Dr. Nguyen Quoc Thap, Vice President of PVN; and representatives from functional Divisions of PVN.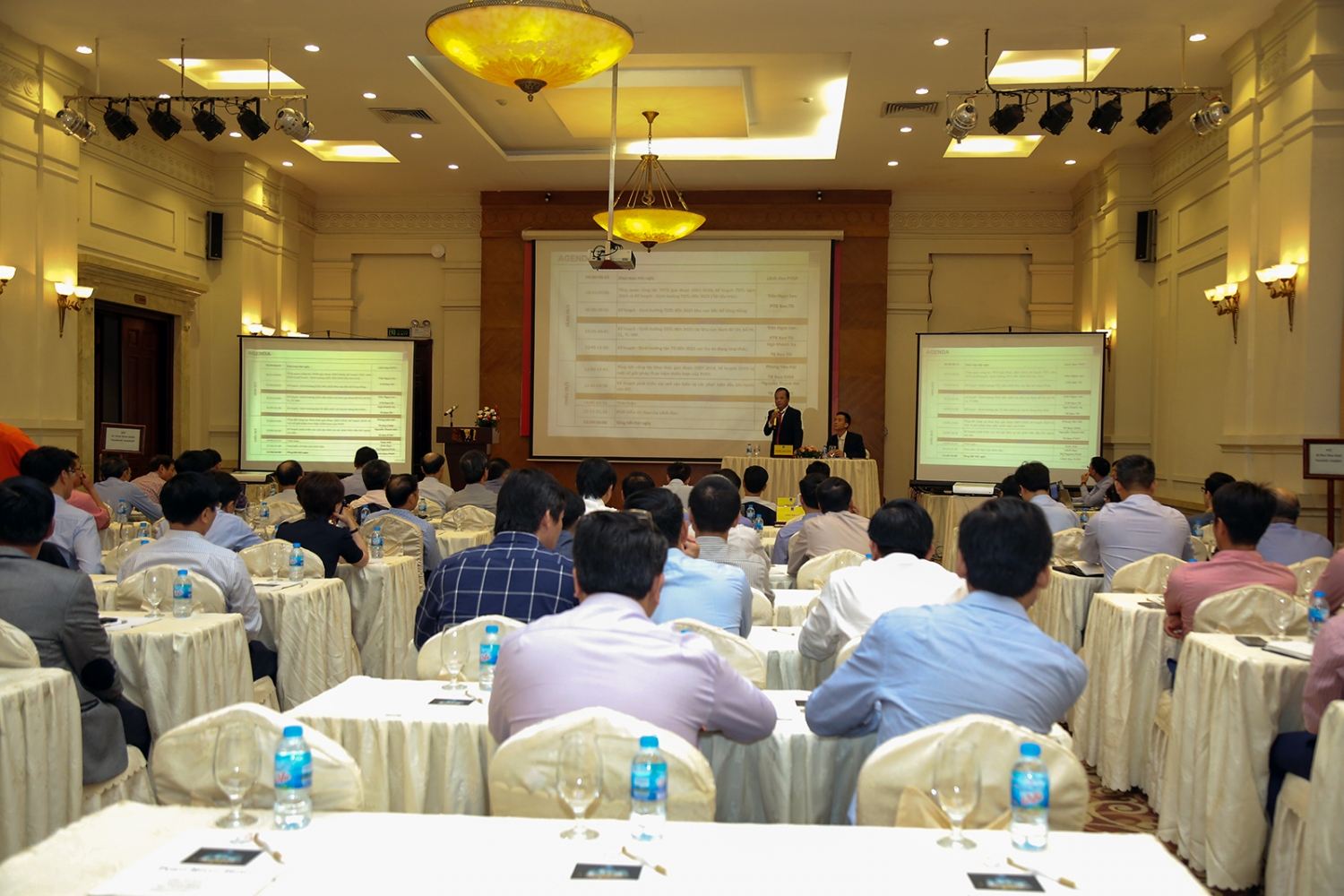 Overview of the Conference
For PVEP were Dr. Tran Hong Nam – Chairman, Dr. Tran Quoc Viet – President & CEO, Leaders from Board of Directors, Executive Board, Divisions/ Departments and Member Units.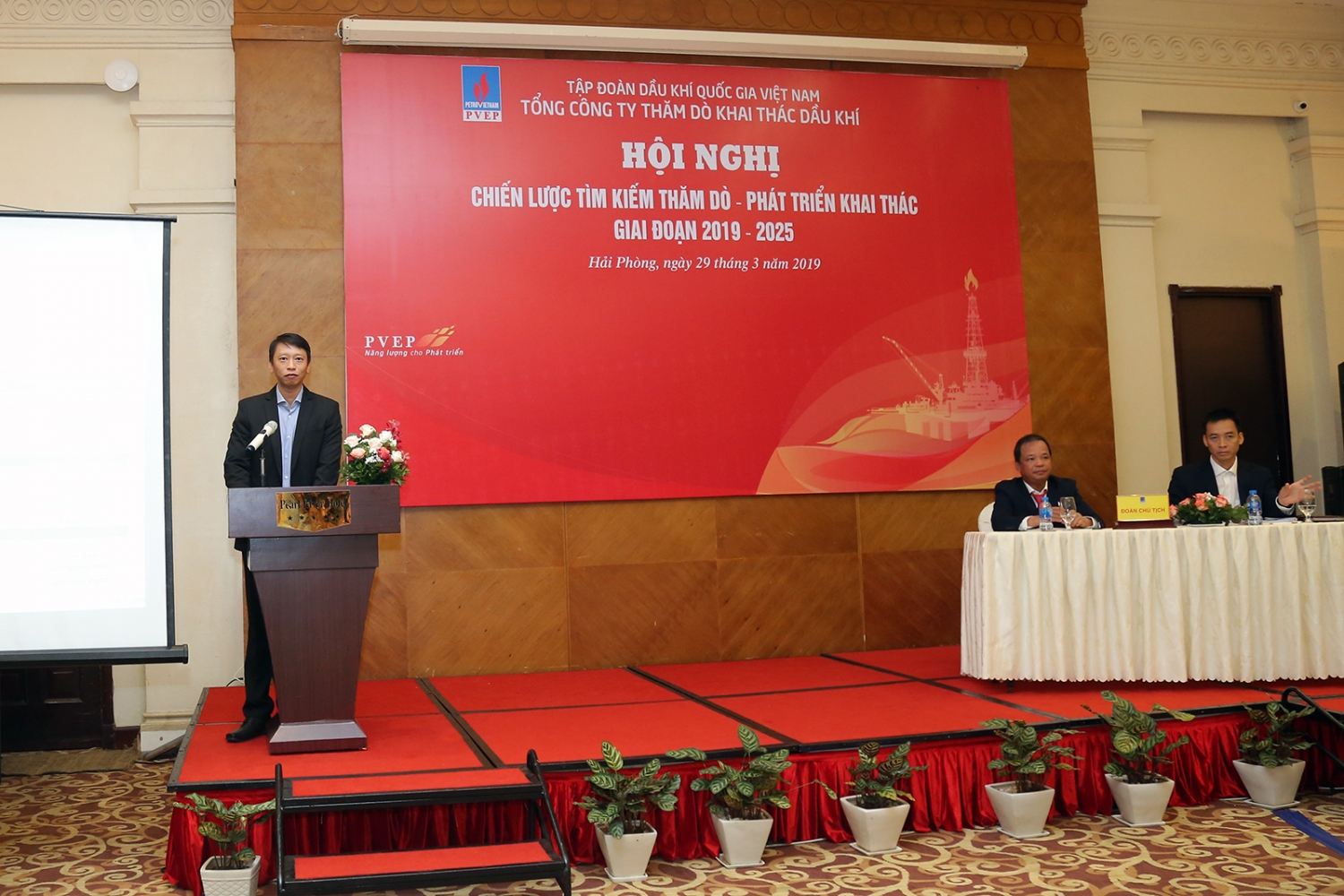 Chairman Tran Hong Nam delivers the opening speech
Speaking at the opening of the Conference, PVEP Chairman Tran Hong Nam emphasized the purpose to re-evaluate the results that PVEP has achieved in exploration, field development, and oil & gas production in all Blocks / Projects.
Through this Conference, Dr. Nam expected all speakers, experts and scientists to share many in-depth opinions and analysis related to PVEP's business activities as well as making contributions to the medium and long-term strategies to implement exploration and development activities in the coming time.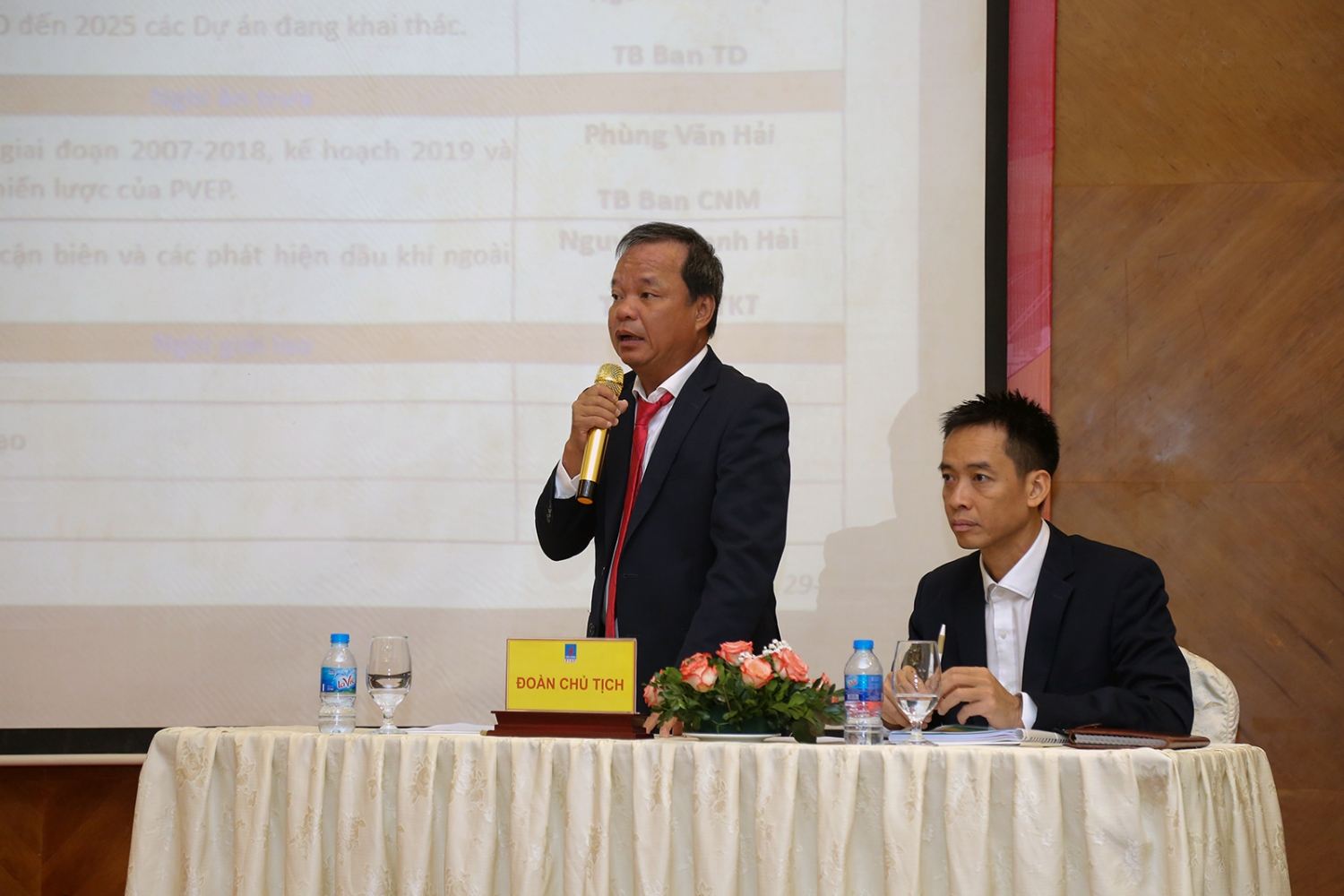 PVEP Vice Presidents Pham Xuan Son and Vu Minh Duc chair the Conference
The Conference included reports on the overview of exploration and development from 2007-2018; the current status of projects / blocks being operated; plan and orientation for the period of 2019-2025…

PVEP representative reports on the overview of exploration, development and production from 2007-2018.
In the period of 2007-2018, PVEP has implemented seismic acquisition of more than 140,000 km 2D and about 50,000 km2 3D, drilled 238 exploration & appraisal wells with high success rate of 50% detection. Also in this period, there were 41 new discoveries and many important discoveries such as Ca Voi Xanh, Hai Su Den, Ca Tam ... Increasing reserves in the period of 2007-2018 reached 126 million tons of oil from appraisal drilling, reaching 110% of the whole period plan, in which increasing oil reserves of 65%, gas reserves of 35%.
In field development, PVEP has put into operation 43 new fields including 34 oil fields, 9 gas fields in the period of 2007-2018. In general, the total production output in this period of PVEP reaches 60 million tons of oil, equal 103% of the whole period plan assigned by the PVN. In particular, production output peaked in 2015 with 4.65 million tons of oil and 1.27 billion m3 of gas.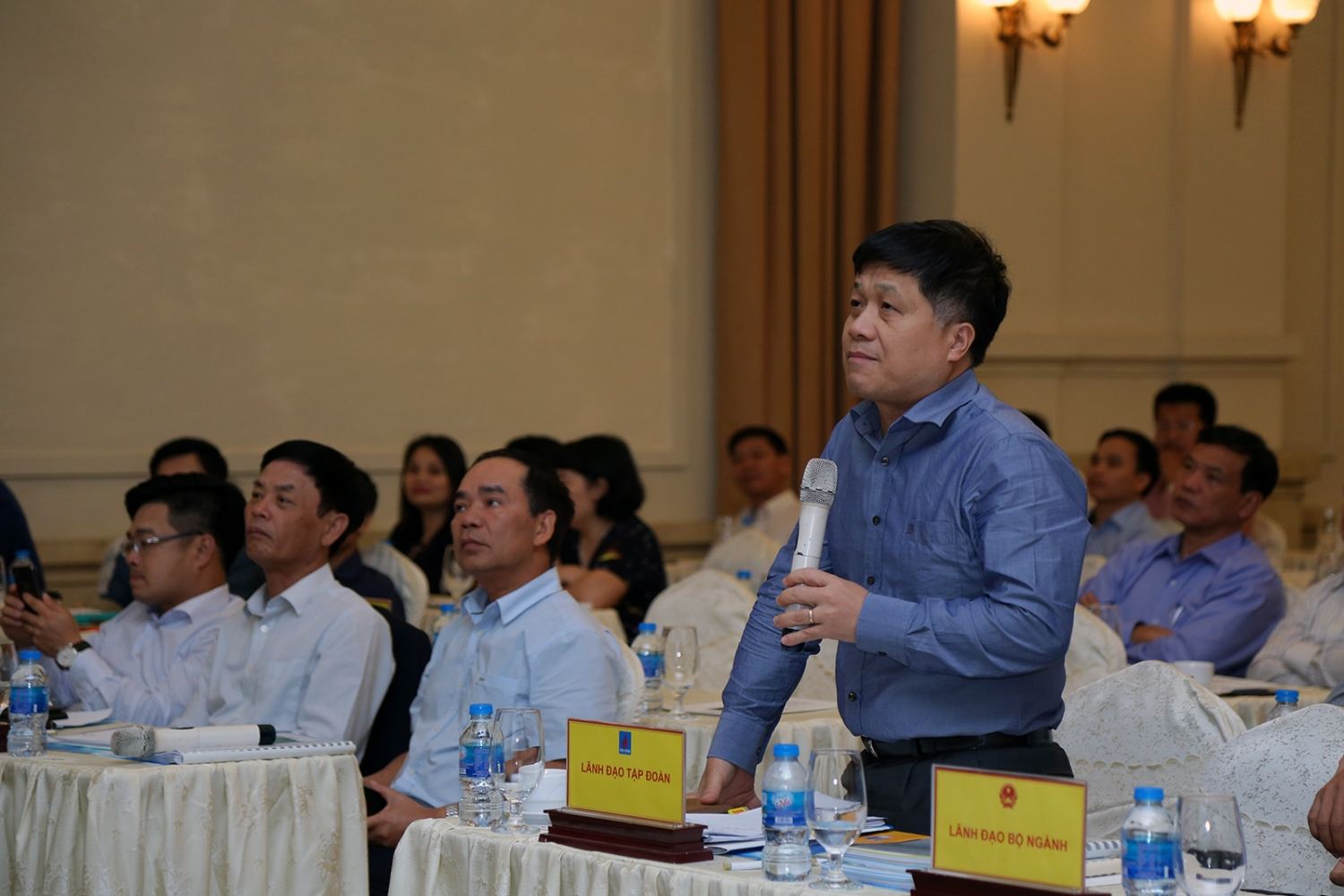 Dr. Phan Ngoc Trung, Member of PVN's Board of Directors speaks at the Conference
Participants in the Conference exchanged opinions and contributed ideas on the implementation of PVEP's strategy of exploration, development and production, also offered solutions to implement effectively the strategy which has been set.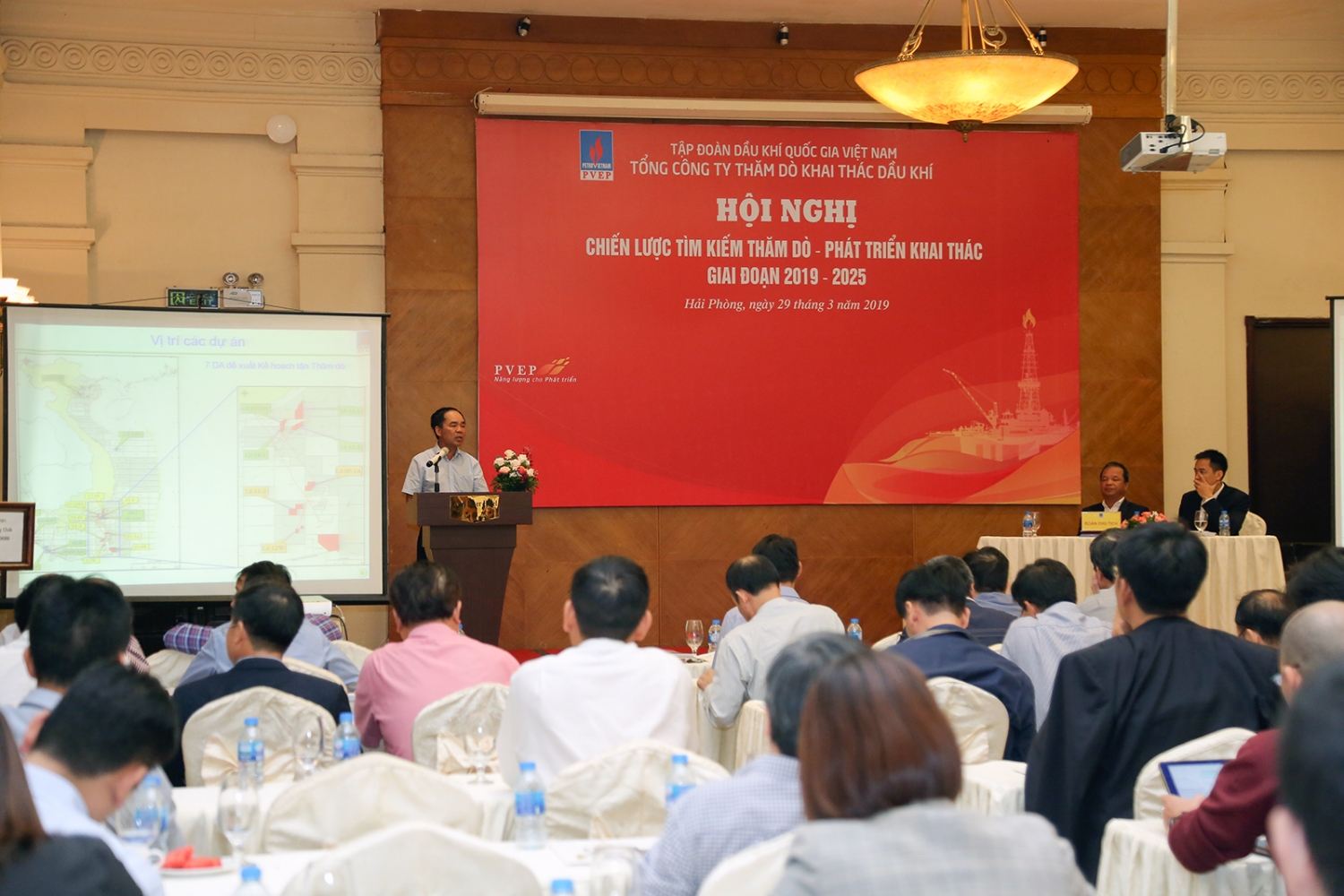 Dr. Nguyen Quoc Thap, Vice President of PVN speaks at the Conference
At the Conference, Leaders of PVN affirmed that the exploration, developing production always play an important role for the development of PVEP in particular and the Oil and Gas industry in general. Therefore, PetroVietnam required PVEP to coordinate with leading experts in the field to explore technical solutions to improve the effectiveness of this work, along with continue to increase investment in assessment activities.
Leaders of PVN also asked PVEP to plan specifically investment strategies for exploration and production, clearly defining objectives for each period to give solutions and orientation so as to build a long-term and sustainable development plan for PVEP, creating a premise for the development of the Group in the coming period.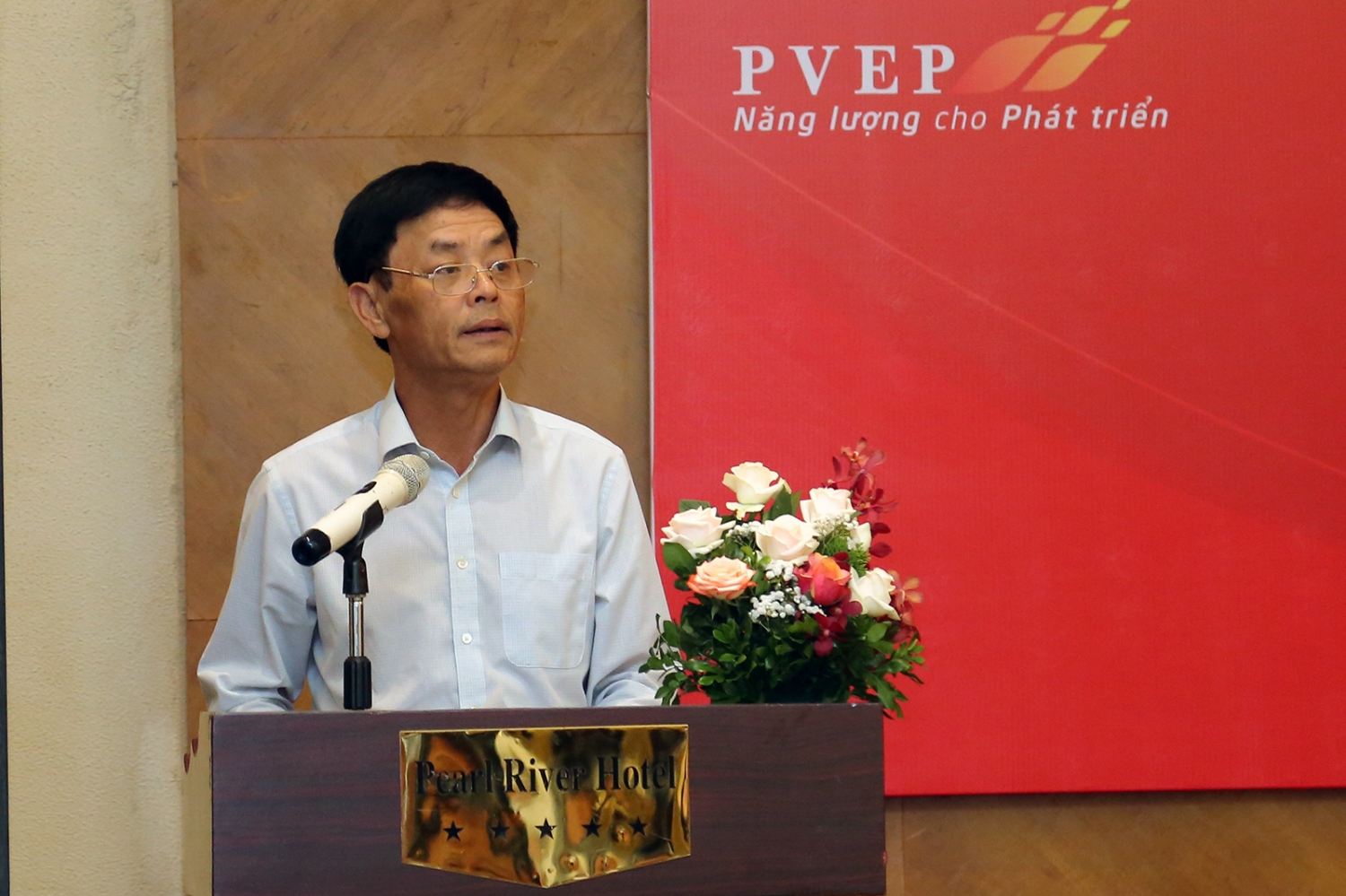 PVEP's President & CEO Tran Quoc Viet states the conclusion of the Conference
On behalf of PVEP, CEO Tran Quoc Viet highly appreciated the opinions and contributions of the experts and speakers presented at the Conference, and also requested PVEP Technical Teams fully acknowledged the ideas and solutions to complete the report on strategic exploration and production plan for the period of 2019-2025.
Dr. Tran Quoc Viet emphasized that the effective and safe implementation of oil and gas exploration, development and production will ensure the sustainable development for PVEP in the coming periods although there are many difficulties and challenges.